| | |
| --- | --- |
| | Pipa tofu - recette de Lâm Ngọc Lan (promo 1975) |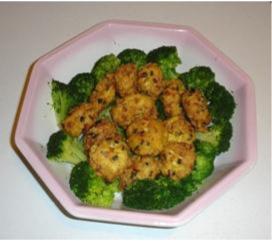 Tàu hũ 2 loại soft & hard : 1 hộp soft & ½ hộp hard. Bỏ vô cái rổ, vò nát ra và đợi lối 1 tiếng đồng hồ cho khô 1 chút. Trong lúc chờ tàu hũ khô, xắt ham (jambon), tôm tươi, hành xanh. Xắt nho nhỏ, như hột lựu vậy. Sau đó, bỏ mỗi thứ vô trong cái thau trộn đều. Thêm vô 2 trứng gà, corn starch (maïzena) lối 1.5 muỗng soupe, muối, tiêu, 1 chút đường. Trộn xong, nếu thấy lỏng thì thêm 1 chút corn starch nữa. Bỏ dầu vô chảo, đợi dầu sôi, khử chút tỏi. Lấy cái muỗng ăn canh của người mình, để một tô nước lạnh kế bên. Nhúng cái muỗng vô nước lạnh, lắc cho ráo nước 1 chút, múc tofu bỏ vô chảo chiên. Làm như vậy thì mỗi miếng tofu có hình dáng tròn trịa đều nhau. Tofu chiên vàng là được.
| | |
| --- | --- |
| | Cá chưng - recette de Lâm Ngọc Lan (promo 1975) |
Cá rửa sạch, lấy khăn giấy lau cho khô. Để con cá lên dĩa. Cắt gừng từng lát mỏng, lót ở dưới mình cá, trong bụng và trên mình cá. Để nước vô chảo, đậy nắp lại, nước sôi thì để dĩa cá vô chưng. Lấy một cái nồi nhỏ, để chút dầu ăn vô. Hành lá cắt sợi nhỏ, gừng cũng vậy, ngò thì cắt từng khúc. Khi dầu sôi, để gừng với hành vô xào thật lẹ. Khi cá chín (mình cá nứt ra), đổ dầu hành gừng, trãi ngò lên mình cá. Xịt xì dầu lên.
| | |
| --- | --- |
| | White Chocolate and Blueberry Bread Pudding, with Amaretto Cream Sauce - recette de Hồng Phương (promo 1975) : |
Recipe courtesy Emeril Lagasse, 2002
Difficulty: Medium
Prep Time: 20 minutes
Inactive Prep Time: 50 minutes
Cook Time: 1 hour
Yield: 8 to 10 servings
2 tablespoons unsalted butter, softened, plus 2 tablespoons, melted
4 large eggs
3 cups heavy cream
1 cup milk
1 cup packed light brown sugar
1 teaspoon pure vanilla extract
1/2 teaspoon ground cinnamon
6 cups 1/2-inch cubes day-old bread
6 ounces white chocolate, chopped
1 cup fresh blueberries
1/2 cup dried blueberries
Amaretto Cream Sauce:
1 tablespoon cornstarch
1/4 cup Amaretto liqueur
1 1/2 cups heavy cream
1/4 cup granulated sugar
For the Bread Pudding: Preheat the oven to 350 degree F. Butter a 10 by 14-inch baking dish with the softened butter. Whisk the eggs in a large bowl. Whisk in the cream, milk, brown sugar, vanilla, and cinnamon. Add the bread, chocolate, blueberries, and dried blueberries and stir well, then mix in the melted butter. Let sit for 30 minutes so the bread will absorb the egg mixture.
Pour into the prepared dish. Bake until firm when pressed in the center, about 1 hour. Cool on a wire rack until just warm, about 20 minutes.
For the Amaretto Cream Sauce: In a small bowl, dissolve the cornstarch in the Amaretto and whisk until smooth.
In a medium saucepan, scald cream over medium heat. Add the Amaretto slurry to the hot cream and whisking constantly, bring to a boil. Reduce the heat and cook, whisking for 30 seconds. Remove from the heat and add the sugar. Whisk until dissolved. Let cool to room temperature before serving with the bread pudding.
Serve warm.
| | |
| --- | --- |
| | Sour cream coffee cake - recette de Hồng Phương (promo 1975) : |
Recipe courtesy Cooking Light Magazine
Difficulty: Easy
Prep Time: 5 minutes
Cook Time: 1 hour
Yield: 12 servings
More than just dessert, this tender cake also doubles as a breakfast option. Pair it with a strata or frittata to provide the perfect brunch for a friend.
1/2 cup packed brown sugar
1/4 cup chopped walnuts
2 teaspoons ground cinnamon
1 cup granulated sugar
1/4 cup butter, softened
2 large egg whites
1 cup reduced-fat sour cream
1 teaspoon vanilla extract
1 3/4 cups all-purpose flour
1 teaspoon baking powder
1 teaspoon baking soda
1/2 teaspoon salt
Cooking spray
Preheat oven to 350 degrees F.
Combine first 3 ingredients; set aside. Place granulated sugar and butter in a large bowl; beat with a mixer at medium speed until well-blended, about 5 minutes. Add egg whites, 1 at a time, beating well after each addition. Beat in sour cream and vanilla. Lightly spoon flour into dry measuring cups; level with a knife. Combine flour, baking powder, baking soda, and salt, stirring well with a whisk. Gradually add flour mixture to sugar mixture; beat well. Spread half of batter into an 8-inch square baking pan coated with cooking spray. Sprinkle half of walnut streusel over batter. Spread remaining batter over streusel. Top with remaining streusel.
Bake for 45 minutes or until a wooden pick inserted in center comes out clean. Cool the cake on a wire rack.
| | |
| --- | --- |
| | Sour cream cake - recette de Hồng Phương (promo 1975) : |
1 pkg. yellow cake mix
1 (3 3/4oz.) pkg instant vanilla pudding mix
4 eggs
3/4 cup water
1 cup sour cream
1 teaspoon vanilla
1/4 cup cooking oil

Filling:
3/4 cup sugar
1 cup finely chopped walnuts
2 Tablespoons cinnamon

In a bowl mix cake, pudding, eggs, water, sour cream, vanilla, and oil. Beat til smooth. Combine filling mixture. Grease bundt pan. Sprinkle part of filling mixture to coat sides and bottom. Alternate layers of batter and filling. Bake 350 for 45-50 minutes. Cool in pan 10-15 minutes then turn out onto wire rack to cool completely.
| | |
| --- | --- |
| | Bún riêu - recette de Lê Thị Hiền Minh (promo 1976) : |
Ở Việt Nam thì người Bắc nấu với cua (giã nhỏ, rồi luộc lấy nước ngọt và chút thịt)... Chén bún riêu ngon thì rất màu mè vì màu gạch cua với màu cà-chua đỏ trộn lẫn với hành lá xắt nhỏ rất đẹp mắt. Khi ăn thì nêm thêm mắm tôm, vắt thêm chanh xanh cho thơm.
Ở bên đây, vì không có cua nên có nhiều kiểu chế biến. Người Bắc thì thích nấu bằng tôm khô cho có mùi thanh tao giống như cua.
Cách 1 : nấu bằng tôm khô hoặc cua trong hộp. Vật liệu và cách nấu : Nước dùng gà (tùy lượng muốn ăn) hầm với cà chua cho nhừ (ít nhiều tùy thích) nêm nước mắm cho vừa miệng. Tôm khô ngâm nước cho mềm rồi xay nhỏ, trộn với 1, 2 trứng gà, đánh cho bông lên một chút, nước dùng đã hầm cà chua nhừ đang sôi thì đổ nhè nhẹ trứng+tôm khô vô cho nó nổi lên riêu cua. Hành lá xắt nhỏ bỏ vô cho nhiều.
Cách 2 : nấu bằng cua đông lạnh (xay nát sẵn rồi) nhập cảng từ Việt Nam (có cua đồng hoặc là cua biển). Giống như trên nhưng thay vì là tôm khô thì bỏ cua. Cách sửa soạn cua đông lạnh giã nhỏ (không cần bỏ trứng) : bỏ cua vô trong một cái rây (passoire), cho nước vô luộc lấy nước đầu, bỏ nước đầu này vô nước dùng đang sôi, rồi tiếp tục thêm vài lần cho tới khi thấy chỉ còn vỏ cua mà thôi. Thường thường người ta bỏ luôn mắm tôm vô nồi nước dùng, nhưng như vậy thì hôi nhà lắm, chỉ nên để riêng cho thêm vô chén lúc ăn thì hơn. Chúc mọi người ăn ngon !